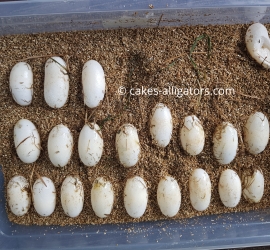 MORE BREAKING NEWS FROM CAKES ALLIGATORS!
Just 8 days ago, we informed everyone that one of our female Chinese Alligators had laid a clutch of 19 eggs in the nest that she had made in her enclosure.
Today, we have even more EGGciting news..
A SECOND OF OUR BREEDING PAIRS OF CHINESE ALLIGATORS HAS LAID A CLUTCH OF 22 EGGS
We've taken 21 of the eggs and put them in an incubator for a better chance of hatching them, leaving 1 egg in the nest, as we did with our first clutch.
As we said previously, we are the FIRST in the UK to successfully manage to get a clutch of Chinese Alligator eggs.
The mother Chinese Alligator is called Sky and the father Shaun Jnr.
Stay tuned on our website for all the latest updates on our Chinese Alligator breeding progress and any updates and news as and when our eggs 'band' and hopefully hatch.
You can view some rare footage of us collecting the eggs from the nest in order to incubate them - giving us the best hope of hatching them.