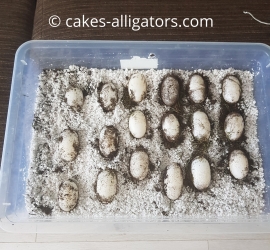 BREAKING NEWS from Kane and Elaine here at CAKES Alligators !!!
You may have seen our post, back on the 10th of May, where we said one of our females had been showing signs of nesting.
Well, it's now the 13th of May, just 3 days later, and we have a further update to our 2019 Chinese Alligator breeding season...
ONE OF OUR FEMALE CHINESE ALLIGATORS HAS LAID 19 EGGS IN HER NEST
In what we believe to be a FIRST anywhere in the UK, and a second anywhere in Europe, CAKES Alligators have successfully managed to breed a pair of Chinese Alligators, and we now have a clutch of 18 Chinese Alligator eggs sitting right in front of us, in one of our incubators.
We've also left 1 egg in the nest that the mother built in her enclosure, in the hope that if this egg hatches, we will be able to study the interaction between the parent Chinese Alligators and the newly hatched youngster. As we are recording and monitoring our Chinese Alligators 24/7, we would like to study the process of the mother interacting with her nest full of eggs, as well as what happens should this egg hatch inside the nest.
All 19 eggs in this clutch have been laid today.
We can't quite believe yet that we have managed to get this far.
Make sure you keep an eye out here on our website's news page and our YouTube channel for future updates on any potential hatchings from our eggs, as well as any other news on our Chinese Alligator breedings. You can also view images of the eggs over in our image gallery.
Fingers crossed..
Note: for future reference, the names of the parent Chinese Alligators that have hatched these eggs are Dragon (father) and Ayla (mother). We also think another pair are showing signs of nesting, so this helps to identify those.
WOW
I've been following your website and youtube account since April as I'm keen to watch your progress in breeding your chinese alligators.
It's amazing that you now have managed to get some eggs..
Here's hoping that they show signs of hatching. How long until you have any signs of them being fertile or do you already know if they are? And how long until they start to hatch??
Carl
Hi carl
Its lovely to hear you have an interest in our website,
hopefully we will know if our Chinese alligator eggs are fertile if they start to get a band around them,
and we would expect them to hatch in approximately 60 days from laying depending on what temperature they are incubated at.
we will keep you updated.
Add new comment